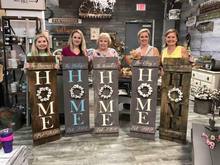 FAQ
Frequently Asked Questions
Can I make more than one project at a workshop? Absolutely
Can two of us work on the same project?
Absolutely, we allow two people to work on the same project
What are the prices for a workshop? 
Prices range depending on the project. Typically, prices range from $25 to $85 depending on the specific project option you choose.
How can I schedule a private party?
The minimal is 12 for a private party. However if you can't reach that number it's not a problem we will accommodate your group to it's own table. To set up a date, time and link for your party you will need to email us at Handscovington@gmail.com
Do I have to pick my project ahead of time? 
Yes. Project selection and customization information for your project is required at the time of booking on our on-line registration form. Please be sure to double-check your spelling and information to ensure your project stencil (for wood workshops) and materials will be ready for you at the start of your workshop. We create custom stencils based on the information YOU have provided. If you ever have any questions about an idea please email us at Handscovington@gmail.com
Do you offer refunds? 
Due to the custom nature of our workshops, registration fees are non-refundable. Registration cancellations made at least 48 hours in advance of a workshop will be granted a FULL class credit for a future workshop. You have to email us the 4 digit number of your ticket (found on the confirmation email) plus the cancellation notice in order to receive this credit. We will not accept FB messages, text messages or voicemails as notice.
Do I need to tell you in advance what colors and stain I want to use on a wood project? 
No, we have a wide variety of paint colors and stains to choose from. When you arrive we will show you examples of different color palettes to help you decide which paints and stains will look the best in your home.
How long does a workshop last? 
The typical workshop lasts about 3 hours.
Do I need to be crafty or artistically talented to take a workshop? 
Definitely NOT! Our workshops provide guided instruction in a relaxed environment. Just bring your DIY attitude and a willingness to learn and you will create a project you will be proud of for years to come!
Can I bring my own snacks or food? 
Yes! Please feel free to bring your own snacks or food to any of our workshops. We also allow decorations for celebrations. You are welcome to come in 15 min prior to your scheduled workshop time to set up.
Can I bring my own beer or wine?
Yes! If you or the group you are with are consuming beer or wine, we ask that you are responsible and have a designated driver on hand or call Uber/Lyft/Taxi service.
When is the earliest you will start a private party when is the latest?
We will host a party as early as 9:00 and we will start one as late as 7:00.
Can my children come to my private party?
Yes, children are welcome to private parties as long as the Host is OK with it. Parents are responsible for their children at all times. We do have equipment that are easily accessible.
Can my child come to a DIY Workshop?
We do offer family friendly workshops based on availability. 
Where can I get a list of your design choices?
We give our customers creative freedom with designs. Check out the facebook albums for ideas and color combinations. If you are unsure or have a specific idea please email us at Handscovington@gmail.com
What is the $25 custom fee for?
Some projects require more detail and/or multiple pieces resulting in a $25 custom fee. You will be contacted via email if you fall into this category. If you are unsure or have a specific idea please email us at Handscovington@gmail.com
How can I purchase the handle, lazy susan or windmill?
We offer all these as add ons at the time of your workshop based on availability.
Can I leave a tip?
Yes, for my teachers and assistants. However if I am teaching your class I will tell you you the best tip you can leave me is a review!